Empowering Safety and Sustainability in Energy & Mining
In the demanding landscape of the energy and mining sector, Veritas Global stands out as a vanguard for Health, Safety, Security, and Environment (HSSE). We recognize the distinct challenges this sector grapples with, especially in remote and extreme environments. Not only are employees exposed to unique hazards such as volatile chemicals, extreme weather conditions, and heavy machinery, but the operations also intersect with vital environmental and community concerns.
Our integrated HSSE approach focuses on both occupational health and environmental stewardship. By offering specialized medical and occupational health services, we ensure your organization meets and exceeds its legal and ethical obligations. This not only enhances the safety and well-being of your staff but also fortifies your environmental and community engagements.
An emphasis on proactive safety culture is at the heart of our offerings. By anticipating and mitigating risks, we help reduce accidents, safeguarding your employees and upholding your organization's reputation. This proactive stance also contributes to more sustainable operations, benefiting both the business and the surrounding environment.
When operations extend into isolated terrains, our commitment shines brightest. We provide rapid and effective medical assistance, ensuring that your workforce is never left unsupported, no matter how remote the location. Such unwavering support fosters trust, boosts morale, and strengthens organizational cohesion.
Partner with Veritas Global to traverse the multifaceted world of energy and mining. Our bespoke HSSE solutions, coupled with our expertise in risk management and medical assistance, provide a robust foundation for your operations, prioritizing the health, safety, and sustainability of your endeavors.
Strengthening Operations in Energy & Mining with HSSE and Occupational Health
Veritas Global has carved a niche in fortifying operations within the Energy & Mining sector by seamlessly intertwining Health, Safety, Security, and Environment (HSSE) protocols with Occupational Health mandates. We understand the intricate demands of this sector and provide tailored solutions. Here's how we support your endeavors:
HSSE Assessments for Sites:
Diligent evaluations of potential risks, uniquely tailored for energy and mining sites. These assessments lay the groundwork for robust HSSE initiatives, driving both safety and sustainability.
Employee Tracking, Safety, and Security:
Leveraging state-of-the-art tools, we offer real-time location tracking, ensuring personnel safety while fortifying site security in volatile terrains.
Crisis Response & Emergency Management:
Specially designed strategies for the Energy & Mining sector, enabling agile and coordinated responses to both anticipated and unforeseen challenges.
Integrated Occupational Health Support:
Beyond routine medical services, we provide immediate on-site response during health emergencies, ensuring the safety and well-being of your workforce.
Global Security Intelligence for Energy & Mining:
Actionable insights on evolving security threats, enabling proactive measures to safeguard operations and personnel.
Global Intelligence on Security & Environment:
Gain insights into evolving security threats and environmental considerations, enabling your operations to proactively adapt and maintain a harmonious balance.
Specialized Medical Network Access:
Our expansive network of healthcare providers ensures that your employees receive the right care, at the right time, regardless of their location.
Travel Safety & Health Provisions:
From hazard assessments to medical support, we ensure the security and well-being of your business travelers in the most remote energy and mining locations.
Cost-Effective Health Solutions
Our strategies optimize healthcare expenses without compromising on the quality of care, ensuring operational efficiency.
Pre-Employment Screening & Medical Billing:
We streamline the process of vetting potential employees for their health and fitness. Additionally, our expertise in medical billing further simplifies administrative procedures, allowing you to focus on core operations.
Elevating Resilience in the Energy & Mining Sector
At Veritas Global, our dedication to the Energy & Mining sector manifests not just in promises but in tangible, impactful actions. We position ourselves not merely as a service provider, but as an integral partner equipped to address the unique complexities of this vital industry.
Precision-Crafted Solutions: Every facet of the Energy & Mining sector presents unique challenges, from volatile terrains to shifting regulatory landscapes. By closely aligning with your mission and understanding your needs, we design solutions that meet these demands with precision. This ensures that each engagement, whether it's day-to-day operations or special projects, resonates with our commitment to excellence.
Logistical Mastery Across Terrains: With operations that often stretch across remote and challenging landscapes, impeccable logistics is paramount. Our expansive network of partners ensures seamless management across the entire value chain. Be it in secluded mining sites or offshore energy platforms, our logistical expertise ensures every operation is streamlined and efficient.
Safety & Workforce Resilience: Safety remains our non-negotiable priority. Our integrated approach to Health, Safety, Security, and Environment (HSSE) and Occupational Health ensures your workforce's resilience and well-being, even in high-risk environments. Through proactive measures and responsive strategies, we ensure your team remains confident, protected, and prepared.
Building A Resilient Future: Our drive goes beyond immediate requirements. We are committed to fostering resilience, ensuring that your operations can adapt and thrive amidst unforeseen challenges. This commitment to building a robust future underlines every service we provide, from risk assessments to crisis management.
In partnering with Veritas Global, you're not merely accessing a service; you're aligning with a vision of enhanced resilience, efficiency, and excellence within the Energy & Mining sector. Together, we can redefine the benchmarks of success, ensuring the safety and prosperity of your operations and personnel.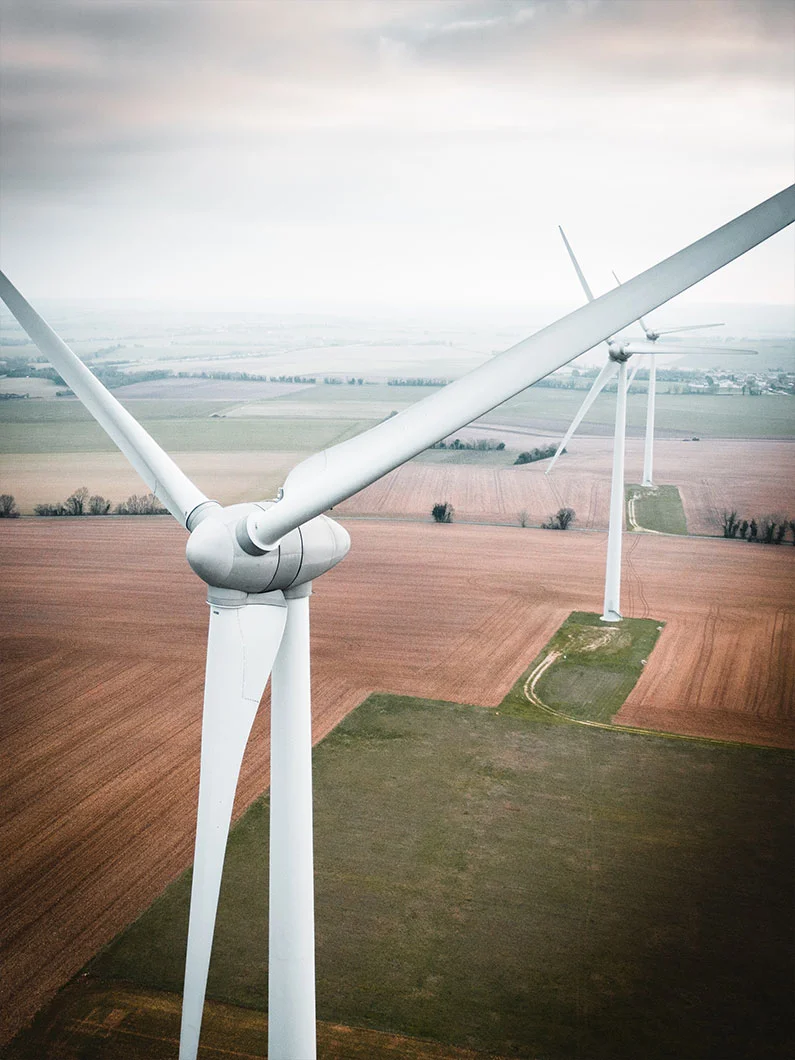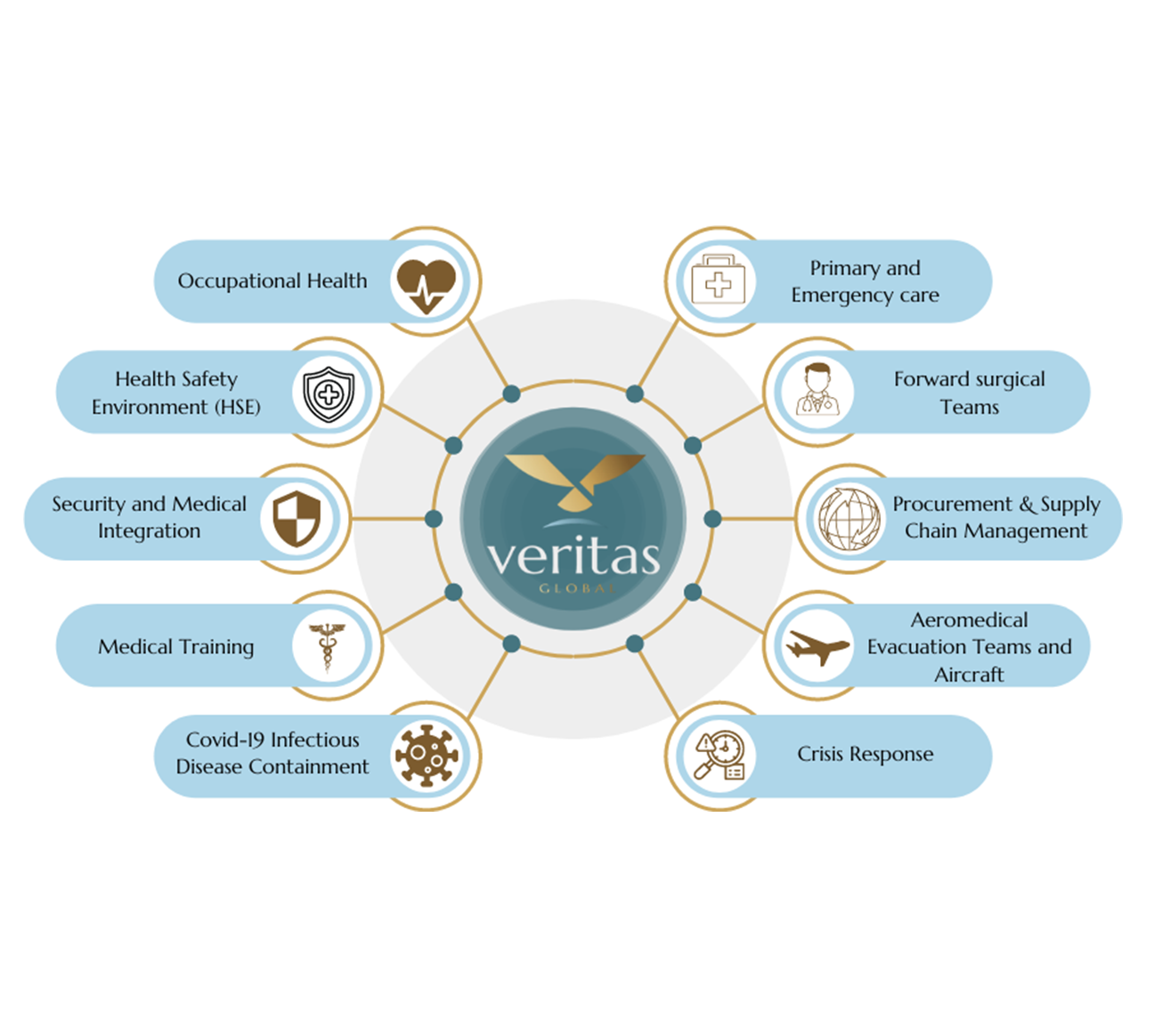 Solutions tailored to meet your needs.
We offer solutions specifically designed for your unique requirements, ensuring the utmost level of protection and support through bespoke care pathways.
or call us 1-615-651-7309 (ext:7309)